Join us at a new Sydney research facility, the Westmead Millennium Institute, for an evening of mingling, great food and guest speaker, Professor Nadia Badawi.
Often when institutes and university campuses are separated by distance the opportunities for getting together, both socially and professionally, are few and far between. But…there are many good reasons for women researchers working on campuses across Sydney to get together. Like starting a new collaboration, meeting your new boss or potential student, or just making a new friend, that otherwise may never have happened.
This Let's Meet event will be a great opportunity for women health and medical researchers in Westmead (home to two Medical Research Institutes and two Area Health Services, and growing) but also throughout Sydney, to get together. We are very grateful to have Professor Nadia Badawi as our guest speaker for the evening. Nadia's work is a wonderful example of what can be achieved when collaborations are built between allied health and medical clinicians, laboratory and public health researchers, health advocacy groups, philanthropists and business leaders. Perfect for this event and Franklin Women. We cannot wait to hear Nadia speak about her research, her journey and any pearls of wisdom she has for women forging a career in the health and medical research field. 
Who is Nadia Badawi?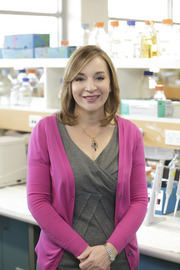 Nadia is a professor of Paediatrics and Child Health at the University of Sydney. Her research focus is on newborn encephalopathy and cerebral palsy. The quality and impact of her research is clear from her number of presentations, research grants, peer-reviewed journal articles and book chapters in this area. In fact she was identified as one of Australia's most highly respected researchers in an NHMRC publication "Working to build a Healthy Australia. Australian Research that's changing the world".
But we think it is more than just her research statistics that make Nadia an inspiration. For us, it is also her passion for making a difference to the lives of newborns and their families, which has led to Nadia wearing many hats in addition to health and medical researcher. Nadia is also a neonatologist and Medical Director of the Grace Centre for Newborn Care at The Children's Hospital at Westmead. She is the Macquarie Foundation Chair of Cerebral Palsy at the Cerebral Palsy Institute, where she is the chair of cerebral palsy research. She is on the Scientific Board of Cerebral Palsy International Foundation. This has culminated in her acknowledgement in The Australian Financial Review and Westpac 100 Women of Influence Awards last year and her Membership of the Order of Australia .
Nadia believes that the community is the researcher's most valuable ally and the importance of involving patients and their families in setting research priorities. She is constantly working to build alliances between business, philanthropists, researchers and the media. She has also had a lot of success in building up international teams of cooperative researchers, uniting wide ranging expertise in the pursuit of a common goal. Over all this however she believes in the importance of family, friends, shopping and handbags.
Date/Time
Date(s) - 26/03/2015
6:00 pm - 8:00 pm
arrival from 5.30pm
Westmead Millennium Institute
176 Hawkesbury Road
Westmead
Spaces Available
17
iCalendar
iCal
Categories No Categories
Bookings
The first time you register for an event, an account will automatically be created for you. (This is a non-member account). A username and password will be emailed to you. This allows you to manage your event bookings.
If you are already a Member or have previously booked an event, please login to your account prior to purchasing tickets. (To become a Member, see our Join us page).
(Franklin Women's Paypal account is registered under Biotalk Pty Ltd)
Bookings are closed for this event.