Join us at CBD Fourth Floor for our first Franklin Women event where you can meet other women working in health and medical research careers over great food and even better wine.  This event is FREE for Franklin Women Founding Members, but anyone is welcome to attend to see what we are all about. Places are limited so you must register below to attend.
We are very lucky to have Julia Palmer, network strategist and CEO of the Business Networking Academy, as our guest speaker for the evening. Everyone dislikes the word 'networking' but it is an important skill for anyone in any career, including researchers who rely on their connections for building research collaborations and finding job opportunities.
Over the course of the evening Julia will remind us of the value of networking and take us through how to do it and do it well. Be inspired to develop new networking strategies to keep you competitive in the future, no matter your direction.  Along with Julia's networking tips, drinks and nibbles will also be provided.
More on Julia Palmer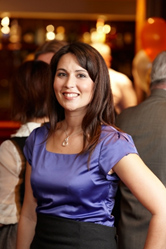 Julia Palmer is a respected networking strategist and best known for leading the face-to-face revolution! Her expertise includes 15 years of practice and research combined with advanced certifications in neuro-linguistics, emotional intelligence (MSCEIT), performance consulting, training and assessment. By age 25 Julia was the General Manager of a multi-million dollar global organisation. She has built her career by organising and attending thousands of networking events across all industries internationally. Now as CEO of the Business Networking Academy, Julia and her team help empower people to create and manage more sustainable and viable networks.
Julia presents at functions and conferences around the world including TEDx 2010 (where hers was voted the No.1 talk by the audience). Her clients include Fortune 1000 companies, professional associations and leading universities. She has authored two books and appears regularly in TV, radio and print media promoting the growing importance of networking relationships. You can learn even more about her and what Julia does here www.juliapalmer.com.
Date/Time
Date(s) - 09/09/2014
6:00 pm - 8:00 pm
Arrive from 5:30pm
Hotel CBD
Level 4, 1/52 King Street
Sydney
Spaces Available
2
iCalendar
iCal
Categories No Categories
Bookings
The first time you register for an event, an account will automatically be created for you. (This is a non-member account). A username and password will be emailed to you. This allows you to manage your event bookings.
If you are already a Member or have previously booked an event, please login to your account prior to purchasing tickets. (To become a Member, see our Join us page).
(Franklin Women's Paypal account is registered under Biotalk Pty Ltd)
Bookings are closed for this event.