Promoting yourself and your achievements is an essential skill for any career, but more than ever in research and related careers. When done right, it opens doors to new opportunities by putting your best foot forward in funding proposals, promotions, job applications or nominating yourself for a committee or an award. Even though it is an important skill, 'tooting your own horn' still gets a bad reputation and is often difficult to put in to practice, especially for women.
At this event we are very lucky to have Professor Amanda Salis as our guest speaker. Amanda is a health researcher who is passionate about helping women in our sector identify and promote their achievements and strengths. She will not only talk about the importance of this in your career but will also share strategies for sharing your own achievements loudly and proudly while also subtly balancing workplace dynamics where Tall Poppy Syndrome can still exist.   
We have timed this event for the beginning of the 2018 awards season and invited an esteemed panel of researchers who have received career changing awards as well as sat on award judging panels. They will share their own experiences with self-promotion, the strategies they have called upon when putting it into practice or what they look for in others, and how it has impacted their careers. We hope this will inspire you to do the same by nominating yourself or a colleague for an award this year.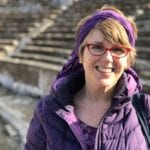 With a Bachelor of Science from the University of Western Australia and a PhD from the University of Geneva, Switzerland, Professor Amanda Salis (publishing as Sainsbury) leads full-time research into dietary treatments for overweight and obesity at the University of Sydney's Boden Institute of Obesity, Nutrition, Exercise & Eating Disorders in the Charles Perkins Centre. Her translational research into hypothalamic control of appetite, eating behavior, energy expenditure, body weight and body composition spans transgenic mice, adults with overweight or obesity, as well as adult athletes. Her randomised controlled trials comparing long-term effects of fast versus slow weight loss – using intermittent versus continuous energy restriction – are funded by a Senior Research Fellowship and Project Grants from the NHMRC. She is the author of two books about adult weight management that are available internationally in three languages and are used by consumers, community health centres/gyms, and by healthcare professionals (e.g. general practitioners, physiotherapists, dieticians, diabetes educators and psychologists).
Amanda has presented workshops and seminars on self-promotion to clinicians, teaching academics and researchers at universities and biomedical conferences across Australia, which have gained rave reviews and inspired many to put this important career skill into practice.
Our Panel
Make a #FWpledge! (to help we've made this awesome

Awards Resource

!)
Did you know last year was the first time a female researcher received the Prime Minister's Prize for Science? Or that only 1/3 of nominations for the Australian Honours list this year were women (And only a few were health researchers, like Prof Jenny Martin and Caroline FInch!). We believe we can change this and are calling 2018 the year of being loud and proud! We are inviting you to make a #FWpledge and commit to nominating a talented woman for an award this year (and it can be you!). We have put together a nomination tool which will be available to the event that lists all major awards open in 2018, with criteria and open/close dates to help you. We will also be collecting your #FWpledge in person at the event or via twitter and will check in with pledgers later on in the year to help keep you accountable. That is our pledge to you 😊
We are very proud to have the generous support of AbbVie as our event sponsor.
And grateful to the Australian Museum, who recognised Australia's scientists and science communicators through the Eureka Awards, for providing the specatcular venue.
Date/Time
Date(s) - 21/03/2018
7:30 am - 9:30 am
7.15 arrival
formal proceedings finish 9am
The Australian Museum (entry via Museum Walk)
corner of College and William Streets
Sydney
Spaces Available
0
iCalendar
iCal
Categories No Categories
Bookings
The first time you register for an event, an account will automatically be created for you. (This is a non-member account). A username and password will be emailed to you. This allows you to manage your event bookings.
If you are already a Member or have previously booked an event, please login to your account prior to purchasing tickets. (To become a Member, see our Join us page).
(Franklin Women's Paypal account is registered under Biotalk Pty Ltd)
This event is fully booked.