While we are busy planning our first FW event of the year we thought it was the right time (peak grant-writing, thesis planning, school starting, or just work in general) to give us all an excuse to dedicate an hour to ourselves! We are very grateful to have Hatha Yoga instructor Graham Wing hold a morning yoga class for Franklin Women.
If you are a seasoned yogi you will already know all of the the benefits that yoga brings to you (increases range of motion and flexibility, improves posture, aids recovery from injuries and just makes you feel great!) but there are also many ways it helps you at work. Like:
Reducing stress and fatigue
Increases productivity
Increases mental clarity
Reduces anxiety
Improves staff morale and job satisfaction
The class will go for 50 minutes, leaving a few minutes for you to enjoy a light refreshment and say hi to other women researchers before heading off to work. Bradfield Park is right next to the Milsons Point train station which goes everywhere, the Milsons Point Ferry stop and has free street parking until 8.30 (and has an amazing view!). All experience levels welcome. Look forward to seeing you there! Nameste
(Also, a few notes from Graham: no food 2 hours before yoga, loose, comfy clothing for all weathers, Yoga mat, picnic rug or beach towel and pregnant women need to speak to him before class starts).
Who is Graham?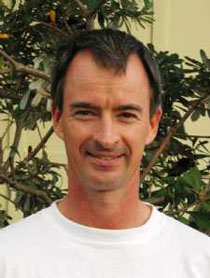 Graham Wing is a qualified Hatha Yoga Teacher with over 12 years experience.  His classes are awesome. The perfect balance of relaxation and strength means you leave his classes feeling at peace with the world but your abs will be sore for the next two days.
Graham teaches yoga at various gyms as well as at a The Mosman Yoga Co-Op . He is also a Remedial Massage Therapist and a Reiki Level III Practitioner. Prior to this Graham worked in corporate IT world for 20 years so he knows how you feel with respects to balancing health in the modern workplace.
Graham is a Member of the International Institute for Complementary Therapists, (I.I.C.T.), has his senior first aid certificate and all the necessary insurances.
Date/Time
Date(s) - 25/02/2015
7:30 am - 8:30 am
Bradfield Park
41 Alfred St south,
Milsons Point
Spaces Available
6
iCalendar
iCal
Categories No Categories
Bookings
The first time you register for an event, an account will automatically be created for you. (This is a non-member account). A username and password will be emailed to you. This allows you to manage your event bookings.
If you are already a Member or have previously booked an event, please login to your account prior to purchasing tickets. (To become a Member, see our Join us page).
(Franklin Women's Paypal account is registered under Biotalk Pty Ltd)
Bookings are closed for this event.