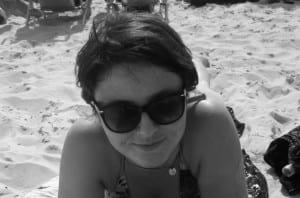 I am Juliette. I graduated in 2010 with a BSc in Microbiology from the University of East Anglia (UEA, UK). In between the parties, the contact hours would be recognisable to any biology graduate; lectures, seminars and lab work. My dissertation included a 10 week lab placement and write up attempting to determine one of the pathways associated with vancomycin resistance. I also took the opportunity to conduct 10 week lab placement during a summer holiday looking at the influence of various substances on muscle degeneration.
I enjoyed my three years at UEA greatly and left with three aims: (1) to never work in a lab, (2) to find a job where I could use my degree and (3) go travelling. After spending most of my life in education travelling was a high priority so done and dusted first. A year after graduating I started the job hunt proper with no particular career in mind, just the fact I wanted to use my degree but not work in a lab. I just knew lab work was not for me. Before I applied to microbiology courses I was torn between sciences and the arts. I knew I was a competent writer and with my science background I started looking into medical communications positions. During my search I found an ad for a graduate trainee systematic review. I have now been a systematic reviewer for three and a half years.
The office I work in was part of a healthcare consultancy acquired in 2011 as a new division to a Contract Research Organisation focusing on the last stages of drug development – reimbursement. Receiving a licence for a drug is just one hurdle to jump; most developed countries use health economics and health technology assessment (HTA) to determine whether newly licensed treatments are clinically and cost effective compared to treatments already being used. Simply: is a new treatment worth the cost? The best way to achieve this is by systematic review and meta-analysis (google 'hierarchy of evidence' for proof!). This is my role: to systematically gather and review evidence on the existing treatments in a non-biased way so that treatment effects can be statistically analysed using methods such as meta-analysis. As part of a consultancy I work with clients from the pharmaceutical and medical devices industry on a project by project basis.
In my next post I will go into what systematic reviews are in a bit more detail and how they different to narrative reviews of done in academia....